In the past few months, there is a sort of Fued between the Chinese Government and US government and this forced the Chinese companies not to be able to use anything made or produced in the US, this also caused Huawei not to be able to Use Android OS on there new smartphones or any Gadgets and this had made Huawei work on its Own OS and Finally The Os is Unveiled and it is called the Harmony OS.
Harmony OS? what brought up that name? Is it to tell the US government that we all can be in Harmony and we get to use Our Technology interchangeably? Well, that I do not know but the name of the new Operating System From Hauwei is called the Harmony OS.
This is more like a treat to Android OS why? This OS is made in China and the real fact cut short is that the Asian countries are the top user of Android which possibly means that the most populated Continent on the Android OS is the Asian.
The Harmony OS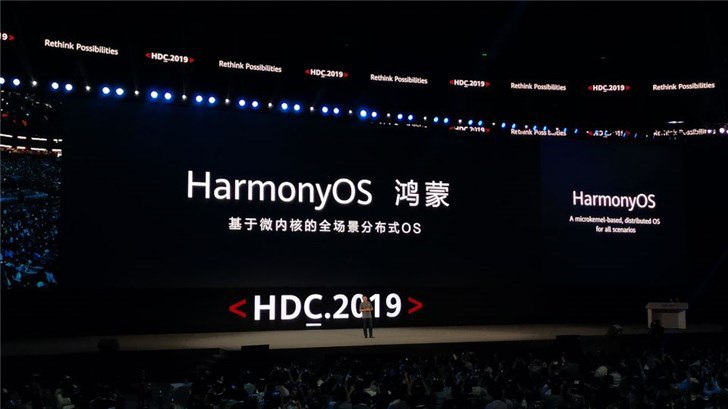 The Operating System was launched and unveiled Today the 9th of August 2019 In the city of Dongguan, China, where Huawei finally took the wraps off its long-rumored, first-party operating system. The OS has been in development for several years but wasn't released and now it is here.
Huawei is not bringing or let me say releasing any smartphone with the new operating system yet but the company is ready to show off this new Harmony Operating System on a new product – Honor Vision Tv – the first smart TV from Huawei.
Google's in-development OS – Fuchsia Uses a non-distributed design. The Harmony OS allows the flexible deployment of the new OS on various devices, easing app development in all scenarios.
Huawei said that it is "hard to deliver a smooth experience across different devices with [a] huge amount of [code] in Android and Linux core." That's because "multi-device interconnection [raises] requirements for security" and the "close-coupling between [the] app ecosystem and [the] hardware compromises [the] user experience and development efficiency."
Harmony OS is based on Micro-kernel and this improves security, according to Huawei.  The microkernel can furthermore be "scaled on-demand for wider system security." In closing, Huawei boasts that products can achieve an EAL 5+ certification level running the new OS.
Theoretically, the performance of the Harmony OS is better than Android and other Linux-based operating systems, according to slides shared by Huawei. This OS uses a simplified protocol to simplify interactions for "faster discovery and connections" of hardware like the display, cameras, speakers, etc.
When Will Hauwei Switch from Android To Hongmeng OS
First, you should know that Harmony OS is also called the Hongmeng OS in Chineses and "it is completely different from Android and iOS Operating system, has been said by Richard Yu, CEO, Huawei Consumer Business Group.
Huawei is still giving priority to using the Android operating system at the moment but the company can start using the Harmony in smartphones anytime.
We will switch to the Harmony system when we can't use Android
Also, He added that it is "not that difficult" to migrate from Android to Huawei's own system.
Harmony will be deployed first in Huawei's smartwatches, smart screens, smart speakers and other devices, including "in-vehicle systems." Devices that use Harmony will be integrated with each other.
There Will be more to the story do make sure you check back and also share this all along.